Theater Chairs for Theaters and Auditoriums
For over thirty years we have specialized in the design, production, and installation of both classic and modern theater chairs and armchairs for theaters and auditoriums. Discover our theater seating options as well as all our other Aresline products!
Learn more...
What makes Our Theater Chairs Special
Our constant effort to look to the future allows us to improve the experience of today's developing public spaces. We seek to achieve this in several ways. By combining our technical skills with a flexible approach we work alongside our customers throughout the entire design process. We also design and study tailor-made solutions to meet particular needs and we collaborate with architectural firms to develop new products. For us, comfort means well-being, but it is also a sensory experience that extends to the refinement of the details, not just the ergonomics of the seating. And finally, what set us apart are not only the services we offer, but also and more importantly the quality of the environments we design.
An Example of Customization and Design Collaboration - The Linz Müsiktheater
Project collaboration is essential: exchanging ideas is an important step in a growth process, and it stimulates the creation of new products and new solutions. In the project for the Linz Müsiktheater, one of the most avant-garde theaters in the world, we developed a bespoke armchair in collaboration with the Terry Pawson & Architekture Consult.
Theater chairs and armchairs play a fundamental role in determining the acoustics of a theater or concert hall if you wish to achieve perfect sound results. The acoustic design of these environments is, in fact, very complex because the sound message is rarely spread by amplification systems. Therefore, specialized technicians and focus on shapes and materials become essential elements. Among these, the seating for theater and music hall environments holds an important role: it must guarantee constant sound absorption, whether the seat is occupied or not (like during rehearsals). Inside the Linz Müsiktheater Opera House, the sound absorption curve is almost identical whether it is measured with an empty theater or a full house since the reverberation time is constant. How was this possible? All of our theater chairs can be customized with fittings and features. Aresline created twenty-three versions of the same armchair—with six seat and fourteen backrest variants—of different shapes and spacing distances. Last but not least, the seats are all equipped with an innovative multimedia touchscreen system installed on the back of the backrest that allows the user to directly interact with the available theater services.
Theater Chairs for Theaters and Auditoriums Requiring Space Reconfiguration
Some of our theater chairs are designed for multipurpose rooms. For example, our V9 and Metropolitan armchair models allow for a complete space reconfiguration, creating two entirely different rooms (see the ultra-modern and high-tech solutions for the Ex-Cinema Radar of Monopoli and the Teatro Civico of Schio). Our Strapuntino model is also an interesting choice, as it automatically folds closed when not in use.
Compliance with Safety and Ergonomic Regulations
Each of our theater chairs is made to offer maximum posture and acoustic comfort, in full compliance with current regulations in terms of safety.
We follow the EN 12727/2017 standard (which specifies the requirements for safety, strength, and durability for all bar-seating fixed to the floor and/or walls, both in the form of benches or singular seats).
Our products have fireproof certification for padded seating.
We comply with MEC (Minimum Environmental Criteria).
We follow the ISO354 standard (which specifies a method of measuring the sound absorption coefficient of materials and/or objects, such as furniture, in a reverberation room and the obtained values can be used for comparisons and calculations to control the noise and acoustic features of the environment).
This allows us to offer a 7-year warranty on all our products.
Premium Sustainable Materials
To create our theater chairs we use the best materials available on the market: Wood of various kinds and qualities; steel of different thicknesses and shapes; self-extinguishing and CFC-free polyurethanes presenting densities per cubic meter that are most suitable for maximum comfort; class-1 fire retardant coatings with suitable grammage and high abrasion Martindale tests.
Made in Italy
All of our seats for theaters and auditoriums are manufactured in Italy. At Aresline, we believe in a local and controlled supply chain: All our seating models are designed and produced in Italy, in the Venice Manufacturing District.
You might be interested in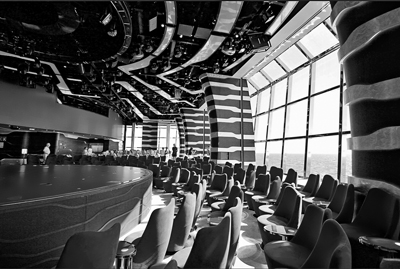 Custom Seating
We create custom-made armchairs for complex projects with attention, competence, and great professionalism.
Custom Solutions
We carry out projects with attention, expertise, and great professionalism.
We place at the centre of our mission the culture of customer satisfaction and we propose ourselves as a supplier of high-quality products and at the same time as a partner to rely on for complete assistance from the definition of the project to its realization.