Custom Seating
Our custom seating is created with care and great expertise. By combining our technical skills with a flexible approach we work alongside our customers throughout the entire design process. We also design and study tailor-made solutions to meet particular needs and we collaborate with architectural firms to develop new products.
Learn more...
The wealth of expertise we have developed over the years allows us to offer certified and customized solutions.
Within this section, you will find a selection of our most significant custom seating solutions, resulting from challenging projects in which we exceeded our expectations. We hope they can be an inspiration for your own project.
Aresline creates the Contract Design Network for Turn-Key Projects and Custom Seating
In 2011, Aresline founded the brand "Contract Design Network" (CDN) to convey its interest and ability in managing complex projects to the market. The CDN is a business network between complementary companies aimed at better managing projects related to the world of public collective spaces, paying particular attention to theaters and auditoriums, conference rooms and congress centers, multipurpose rooms, and classrooms and training rooms. We are thus able to offer turn-key and customized solutions for furnishings, acoustic corrections, multimedia systems, telescopic tribunes, retractable floors, and stages and their technical accessories.
A Selection of Our Achievements
With our over thirty-year experience in the business, today we can boast many noteworthy achievements.
To best convey our added value in complex design projects—in which customization is often the key element—we believe that the following are great examples of our work.
In a very short period, we designed, built, and installed the technical floor in a tiered, circular arrangement. The project includes multimedia systems for simultaneous translation and integrated conferencing, a large custom-made round table, and seats for delegates and observers.
We collaborated in the entire design of the room, taking care of the flooring, customized acoustic correction, stage, multimedia system, and floor-fixed armchairs.
We installed the custom-made and motorized telescopic tribune, as well as all the armchairs, which were created according to a design by the M3 Architectes studio. The seats are characterized by very wide armrests (equipped with large retractable writing tablets) and backrests that fold away into the tribune when closed.
Completely built with custom-made furnishings designed by Ferrari Architect and Studio Cartolano, it presents 240 study stations (all network-connected) and Fonology acoustic panels for optimal acoustic performance
The Aresline Process for Custom Seating
The expertise and know-how that we have gained over the years through our experience in creating custom seating brought Aresline to develop its own specific process, which begins by meeting the customer and culminates in the installation of a customized product.
The steps in this process are:
Engagement and dialogue with the customer/designer;
Customized offer;
Engineering study;
Prototyping of components (made with 3D printer);
Sample making;
In-house testing;
Once in-house tests are successful, the process continues (otherwise, it resumes from point 3);
Product industrialization;
Official tests performed by outside agencies;
Certifications (in case the product is included in the catalog);
Production;
Final installation.
You might be interested in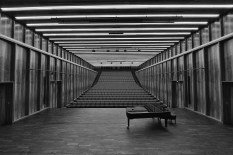 Theaters and Auditoriums
We are specialists in the design, production and installation of armchairs for both classic and modern theaters and auditoriums.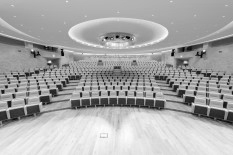 Congress Centers and Conference Rooms
Our armchairs and seats for Congress Centers and Conference Rooms are designed to provide maximum comfort, and to integrate the technologies and functions required for this type of environment.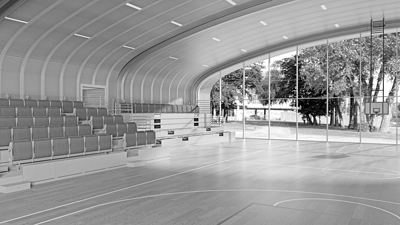 Multipurpose Rooms Seating
Seats for multipurpose rooms that generate space and make spaces reconfigurable.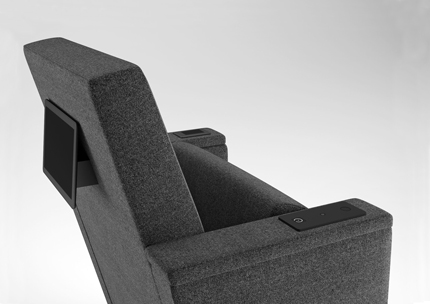 Technologies
A series of innovative systems to respond to the new demanding technologies of collective spaces
We are the only Italian company to guarantee our products for 7 years.
All models, before being placed on the market, are subjected to certification by accredited bodies which decree their compliance with the international regulations in force on the subject. This has allowed us to be among the first companies, and the only one in Italy in the field of seating, which guarantee their products with a 7-year warranty.