Technology for lecture hall seating
Specific systems for seats and desks in classrooms and lecture halls:
writing tablets with anti-panic locking mechanism, cabling integrated into the structures, and workstations offering accommodations for people with disabilities, designed to be integrated with the other products in the range.
Learn more...
Writing tablets
Writing tablets turn a seat or chair designed for communal, educational and training spaces into a functional workstation. They are all made of grey HPL laminate and are equipped with an efficient anti-panic folding mechanism that ensures complete closure, thus creating space for free movement between rows. For the Aira, Woody and Zero9 Filo models, the tablets are easily removable (no tools required) and can also be installed for left-handers.
Two styles are available. For the Aira Huddle Space and Aira 5-spoke base models, the tablets can be rotated 360 degrees, for both left- and right-handed writing. For the Zero 9 chair model, the seat is equipped with an anti-panic folding writing tablet and a removable support in die-cast aluminium that also serves as a coupling link between one seat and the next.
Anti-panic writing tablets are also used in classroom desks for universities and vocational training spaces. Larger folding writing tablets are useful accessibility improvements for workstations used by people with disabilities.
In-seat power - systems for the integrated electrification of desk seats
The power and multimedia systems for the Omnia Evolution and Omnia lines are made of metal cable ducts that can be inspected and can contain integrated electrical outlets (compatible with all international systems) and computer network sockets. The Power Beam system, on the other hand, uses the structural beam of the seats for cable routing and, via a plastic connector, can integrate the main power and computer network outlets.
For Thesi desks, inspectionable under-top channels made of extruded aluminium or sheet steel are used. Structures designed in this way allow for the passage of electrical cables and computer networks from one place to another, and from the floor to the sub-floor.
Wheelchair workstation - bench seats for people with disabilities
Workstations accommodating students with disabilities are crucial to the functioning of an educational environment. Aresline's accessible models are conceived, designed and manufactured to be aesthetically and functionally integrated with the other products in the range. These anthropometric and ergonomic desks intended for people with disabilities are ideal for a more inclusive and accessible learning experience. They are true accessibility aids for university classrooms and other spaces dedicated to teaching and training.
The Aresline product range includes: folding tablet with castors, with an oversized tabletop to comfortably accommodate a wheelchair; folding table with lockable castors and height-adjustable tabletop; folding table with central leg attached to a metal plate resting on the floor; bench seat with fixed table integrated with the Omnia Evolution series front row seats, rotatable by 50 degrees, which can also be used in the absence of the disabled person.
You might be interested in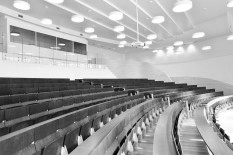 Lecture Hall
For each classroom we design, we pay special attention to both the ergonomics and functionality, without neglecting the design and configurability of the room.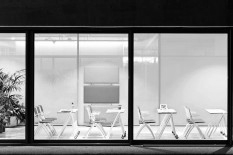 Folding and multifunctional desks for classrooms and lecture halls
We develop our products from sketch to production to guarantee the best quality.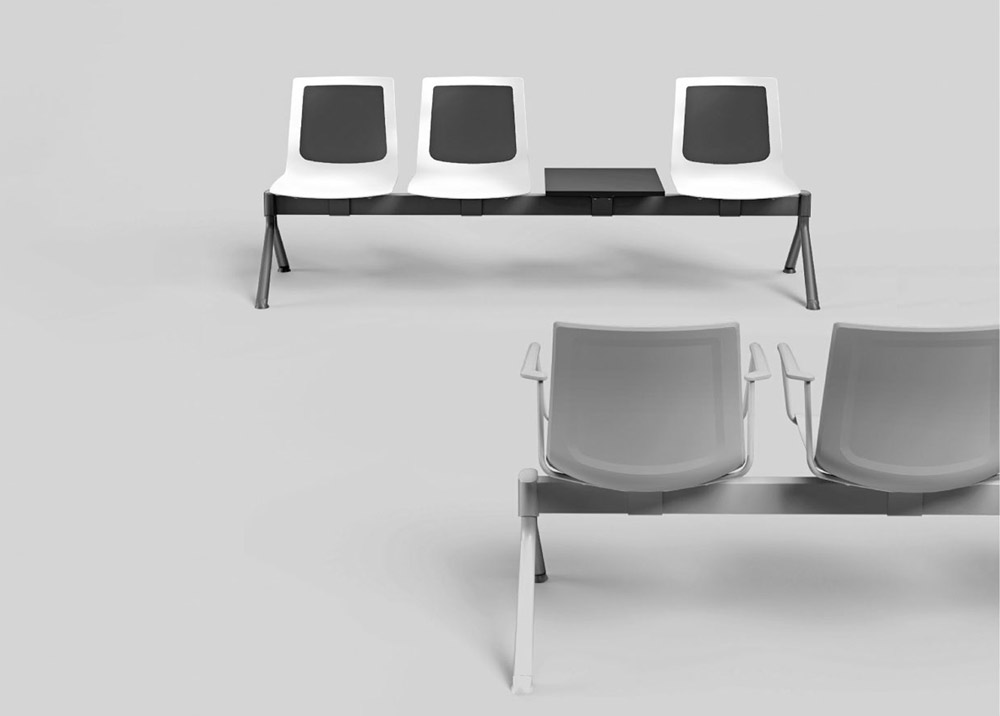 Benches for recreational spaces and meeting rooms
Eco-friendly rail-mounted seating solutions for for recreational and conference spaces