Classroom and Lecture Hall Seating
Discover Aresline's designs for teaching, training, and university lecture hall seating. For each case, we pay special attention to both the ergonomics and functionality of the seating, not to mention the room's design and configuration!
Learn more...
Over Thirty Years of Experience in the Production of Classroom, Training Room, and University Lecture Hall Seating
We have been designing spaces and manufacturing products for educational environments for over thirty years. Our tried and tested experience allows us to understand customer needs and provide products that meet the highest standards of quality and comfort.
Seating Solutions for Universities and Educational Environments
Our lecture hall seating for universities and educational environments is made with the best materials and advanced technologies, in order to last well beyond the 7-year warranty period of all our products.
Our seating offers maximum comfort in full compliance with current regulations in terms of safety.

We follow the EN 12727/2017 standard (which specifies the requirements for safety, strength, and durability for all bar-seating fixed to the floor and/or walls, both in the form of benches or singular seats), the EN 15372/2017 standard (which specifies requirements for the safety, strength, and durability of all types of non-domestic tables including those with glass in their construction), and the EN 1730/2017 standard (for test methods determining the stability, strength, and durability of non-domestic tables).

The seating system includes the table surface, seat, upright posts, as well as many other optional accessories. The tables may be either fixed or foldable, equipped with anti-panic reaction movement and an external laminate finish. The seats can be folded shut through a spring system that may include a shock absorber to reduce noise during its operation. The seats can be made of aniline-stained beech plywood with water-based paint coating, or they can be padded and upholstered in Trevira-fiber fabrics (which are resistant to fire and 100.000-cycle Martindale abrasion tests). The upright posts of the load-bearing structure are firmly fixed to the ground thanks to two or even three points of attachment per seat.
The optional document trays can be placed either horizontally, under the table, or vertically.
Electrical or data cables run through ducts (which are appropriately isolated to avoid any interference) that are of easy access, either at the beginning or end of each row, making them easy to inspect
Tables with Integrated Seating for Training and Educational Environments
Our tables with integrated seating for computer classrooms or study rooms have a large laminate-finished surface and are equipped with a front panel allowing both user privacy and easy passage of electrical or data cables. These tables present a swivel seat that is hooked to the main load-bearing structure through an aluminum-alloy armrest. The entire seat structure is then fixed to the floor with appropriate load-bearing anchors. This system helps gain optimum room capacity while also remaining in compliance with safety regulations. Silent use and easy cleaning are guaranteed. Seats can be in fire-retardant polypropylene or beech plywood, padded and upholstered in Trevira-fiber fabrics.
Innovative Seating
For educational activities involving greater interaction with the teacher, we have engineered a line of innovative mobile and swivel seats that allows for infinite spatial configurations. This is the case of our Aira model with its "Huddle Space" configuration. The Aira Huddle Space is a swivel model equipped with a large integrated swivel table, which is also suitable for left-handed writing.
The base is hexagonal, just like the shape we find in beehives, since it is the best shape to bring together or store many units in the least amount of space.
The steel base also presents a spacious tray to hold documents and/or backpacks.
The actual seat is made of fire-retardant colored polypropylene and complies with ecological standards.
Mobile Seating for Multipurpose Rooms
The Zero9 Chair model is an interesting seating choice for universities and classrooms. A four-legged seat equipped with armrests and writing tablet, it also features a very comfortable flexible backrest that provides extremely comfortable seating even after many hours of use. Zero9 can be stacked both vertically and horizontally, taking up very little space.
The seat can be paired with the multi-function Zero9 Table: featuring a folding top, wheels, and an easily stackable design, this table perfectly matches the functionality and style of the Zero9 Chair design.
Tables for Educational Environments
Aresline does not only focus on chair design: thanks to its many years of experience, it also designs and produces table models as well.
Discover our Aresline Table section.
Compliance with Safety and Ergonomic Regulations
Every single Aresline chair, armchair, and seat model is made to offer maximum posture and acoustic comfort, in full compliance with current regulations in terms of safety.
We follow the EN 12727/2017 standard (which specifies the requirements for safety, strength, and durability for all bar-seating fixed to the floor and/or walls, both in the form of benches or singular seats).
Our products have fireproof certification for padded seating.
We comply with MEC (Minimum Environmental Criteria).
We follow the ISO354 standard (which specifies a method of measuring the sound absorption coefficient of materials and/or objects, such as furniture, in a reverberation room and the obtained values can be used for comparisons and calculations to control the noise and acoustic features of the environment).
This allows us to offer a 7-year warranty on all our products.
Made in Italy
All of our lecture hall seating and tables are manufactured in Italy. At Aresline, we believe in a local and controlled supply chain: All our seating models are designed and produced in Italy, in the Venice Manufacturing District.
You might be interested in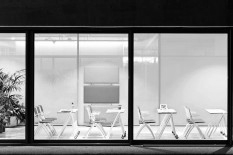 Folding and multifunctional desks for classrooms and lecture halls
We develop our products from sketch to production to guarantee the best quality.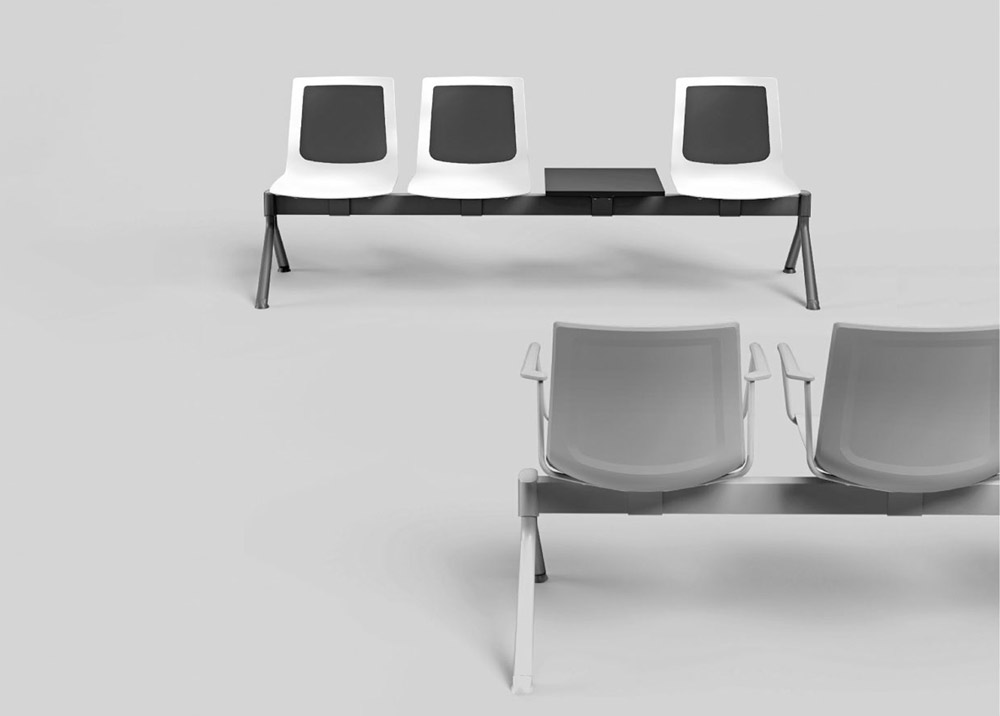 Benches for recreational spaces and meeting rooms
Eco-friendly rail-mounted seating solutions for for recreational and conference spaces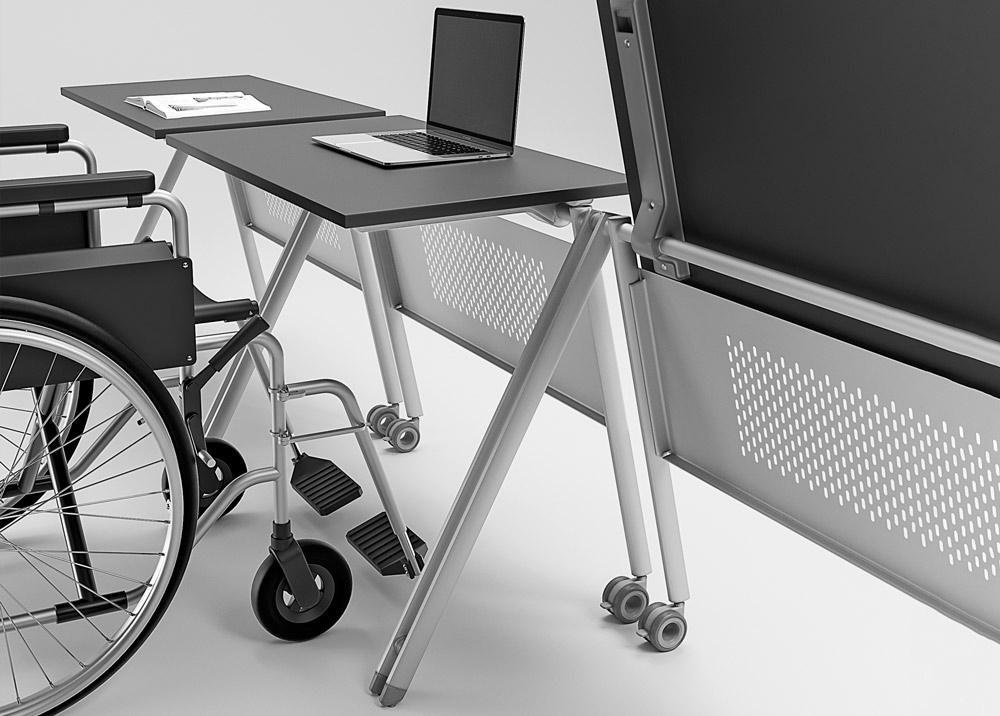 Technology for lecture hall seating
A series of innovative systems to respond to the new demanding technologies for lecture hall seating
Custom and Turnkey Projects
We create custom projects with attention, competence, and great professionalism.
We place the culture of customer satisfaction at the center of our mission and we propose ourselves as a supplier of the highest quality products and as a partner to rely on for complete assistance from the definition of the project to its realization.