Fixed Seating for Congress Centers and Conference Rooms
Our fixed seating for congress centers and conference rooms is designed to provide maximum comfort, while also integrating the technologies and functions required for this type of environment. Discover all of our solutions!
Learn more...
Optional Extras
Each fixed seat can be equipped with a small writing tablet that disappears into the front of the armrest (which in turn is equipped with an anti-panic reaction movement) or with a large, foldable table that is connected to the rear part of the backrest. All armchairs directly connected to the floor can be equipped with power and/or USB sockets, as well as with audio systems for simultaneous translation. Some seating models can be equipped with a multimedia touchscreen on the back, giving users the opportunity for real-time interaction with the show.
Turn-Key Fixed Seating for Congress Centers and Conference Rooms
Our fixed seating for conference rooms can be arranged in amphitheater curves or on a slant. They are installed following ISO 354 standards and tested on both empty and full rooms. The seating layouts are designed to optimize the visibility of each seated person. Curvature radius and step height become important elements for us to consider to achieve optimal results, always in compliance with Italian and international fire safety regulations.
Turn-Key Projects for Congress Centers and Conference Rooms
Thanks to our business network, Contact Design Network (CDN), we can carry out design projects from start to finish. For spaces destined for congress centers and conference rooms, we can provide seating, stages, AV systems, and fixed or telescopic tribunes with integrated armchairs and acoustic correction. Take a look at some of our favorite design projects to better understand the standards of our service and the quality of our work: UNESCO Salle X in Paris, FAO in Rome, Confcommercio headquarters in Rome, Palais du Pharo in Marseille.
Furthermore, Aresline designs tailor-made tables and platforms that are perfectly integrated into the stage, equipped with all the necessary features for the most sophisticated multimedia controls. The T&T System (Return & Shift) we have engineered is a mechanism that is paired with a series of fixed armchair designs, which allows a range of motions and the chairs' automatic return to their upright and straight position. This mechanism allows the seat to rotate 360° and shift and adjust in height. This offers many advantages: the armchairs are mobile while also remaining fixed to the floor; they can be paired with a conference table; and the unoccupied armchairs remain aligned and in order, leaving the exit routes always free and safe.
The broad range of seating models offered by Aresline appeals to the most demanding customers, who seek many different styles, from classic to modern.
Acoustics in Community Environments
Fonology is a brand that was founded by Aresline in 2014. This division deals with architectural acoustics and approaches the issue through a multi-material design approach. Fonology offers the best sound-absorbing materials (which are all tested and certified) to create acoustic designs that optimize the proposed solutions.
Compliance with Safety and Ergonomic Regulations
Every single Aresline chair, armchair, and seat model is made to offer maximum posture and acoustic comfort, in full compliance with current regulations in terms of safety.
We follow the EN 12727/2017 standard (which specifies the requirements for safety, strength, and durability for all bar-seating fixed to the floor and/or walls, both in the form of benches or singular seats).
Our products have fireproof certification for padded seating.
We comply with MEC (Minimum Environmental Criteria).
We follow the ISO354 standard (which specifies a method of measuring the sound absorption coefficient of materials and/or objects, such as furniture, in a reverberation room and the obtained values can be used for comparisons and calculations to control the noise and acoustic features of the environment).
This allows us to offer a 7-year warranty on all our products.
Premium Sustainable Materials
To create our fixed seating we use the best materials available on the market: Wood of various kinds and qualities; steel of different thicknesses and shapes; self-extinguishing and CFC-free polyurethanes presenting densities per cubic meter that are most suitable for maximum comfort; class-1 fire retardant coatings with suitable grammage and high abrasion Martindale tests.
Made in Italy
All of our fixed seating is manufactured in Italy. At Aresline, we believe in a local and controlled supply chain: All our seating models are designed and produced in Italy, in the Venice Manufacturing District.
You might be interested in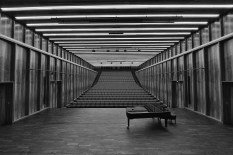 Theaters and Auditoriums
We are specialists in the design, production and installation of armchairs for both classic and modern theaters and auditoriums.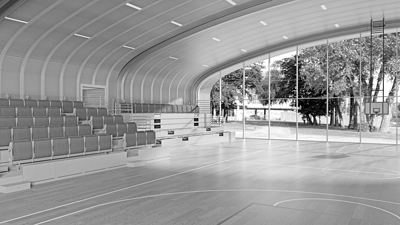 Multipurpose Rooms Seating
Seats for multipurpose rooms that generate space and make spaces reconfigurable.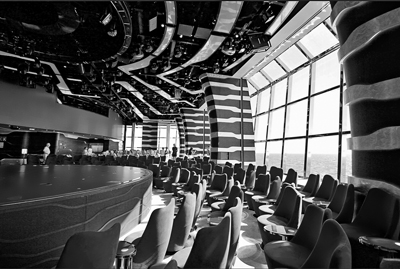 Custom Seating
We create custom-made armchairs for complex projects with attention, competence, and great professionalism.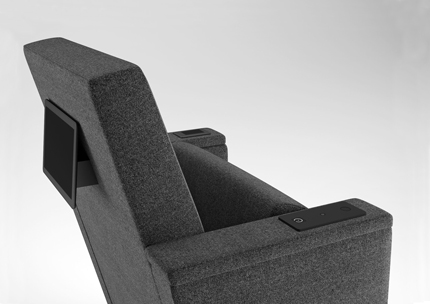 Technologies
A series of innovative systems to respond to the new demanding technologies of collective spaces
Custom Solutions
We carry out projects with attention, expertise, and great professionalism.
We place at the centre of our mission the culture of customer satisfaction and we propose ourselves as a supplier of high-quality products and at the same time as a partner to rely on for complete assistance from the definition of the project to its realization.