Hospitality
Thanks to the experience and know-how of its Fonology brand, Aresline has presented a new collection of chairs, tables, modular sofas, and acoustic lamps that are perfect for hospitality environments. Discover the hospitality products that best fit your environment!
Leran more...
Our strategic, broad-based approach has allowed us to extend the range of our products to different environments, including the hospitality and ho.re.ca sectors (Hotel, Restaurant, and Cafeteria).
Our seating for hospitality is for both public and private spaces, like lounges and dining areas, and can be of various shapes and sizes, produced with differing materials, for indoors and/or outdoors.
In addition to the elegance of the shapes, we contribute by producing only comfortable and cozy seats, which is a feature that is often not found in the seating solutions in this sector.
Main Features of Hospitality Armchairs
In order to facilitate the room's reconfiguration and cleaning, our chairs must always be light and stackable, whether they have rigid or padded seats, whether they are with or without armrests, and whether they have wooden, plastic, aluminum, or steel bases. When upholstered, fabrics should be easily removable and washable. If they are plastic and used outdoors, they undergo an anti-UV treatment to resist sunlight damage. Finally, our hospitality seating must be aesthetically appealing and guarantee the possibility of customization.
Keeping all of this in mind, Aresline developed its Aira model: a complete seating line for the public, designed by BaccoliniDesign.
The model presents a single-piece seat in fireproof polypropylene, with anti-UV treatment. It is produced with recycled materials, complies with environmental and ecological criteria, and has a 7-year warranty like the rest of our products.
Discover all of Aira's features and check out the rest of the line.
Tables, Sofas, Modules, and Acoustic Lamps for Hospitality Environments
In addition to its hospitality seating, Aresline offers a range of table designs of different shapes and sizes, perfect for lounge areas and catering environments. Also, thanks to the collaboration with Fonology—the Aresline brand dedicated to acoustic well-being—we have expanded our collective range with acoustic sofas and modules that are perfect for those looking for acoustic comfort in chaotic open-space environments. To complete our hospitality line, we have our acoustic lamp model, Futon, which derives from Fonology's Airform series.
Compliance with Safety and Ergonomic Regulations
Our products are designed to ensure the user's maximum postural comfort, in compliance with all current safety regulations.
Our products are certified as follows:
EN 16139/2013 (a standard that specifies the requirements for safety, strength, and durability for all non-domestic type seating);
EN 1728/2012 (a standard that specifies the test methods for the determination of strength and durability);
EN 12727/2017 (a standard that specifies the requirements for safety, strength, and durability for all bar-seating fixed to the floor and/or walls, both in the form of benches or singular seats);
ISO354 standard (which specifies a method of measuring the sound absorption coefficient of materials and/or objects, such as furniture, in a reverberation room and the obtained values can be used for comparisons and calculations to control the noise and acoustic features of the environment);
They come with fireproof certification;
They comply with environmental and ecological criteria.
This allows us to be the only ones in Italy able to offer a 7-year warranty on all our products.
Made in Italy
We use the best materials available on the market: Wood of various kinds and qualities; steel of different thicknesses and shapes; self-extinguishing and CFC-free polyurethanes presenting densities per cubic meter that are most suitable for maximum comfort; class-1 fire retardant coatings with suitable grammage and high abrasion Martindale tests.
All of our hospitality seating is manufactured in Italy. At Aresline, we believe in a local and controlled supply chain: All our seating models are designed and produced in Italy, in the Venice Manufacturing District.
You might be interested in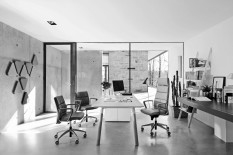 Workplaces
For over thirty years we have specialized in the production of office chairs that we design and manufacture entirely in Italy.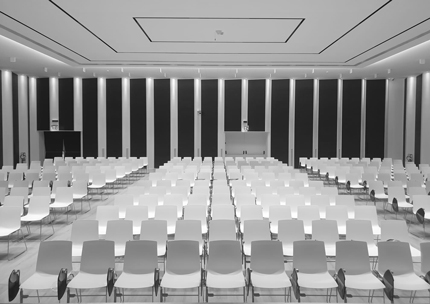 Multipurpose Rooms with Chairs
The seats for multipurpose rooms that generate space and make spaces reconfigurable are our challenge.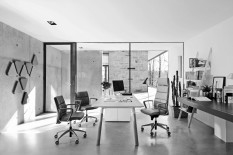 Waiting Rooms
For over thirty years we have been specialized in the production of chairs for work environments that we design and manufacture, entirely in Italy.
Acoustic and Sofas Modules
Natural synergies bring to light products with prominent acoustic characteristics.
Custom Solutions
We carry out projects with attention, expertise, and great professionalism.
We place at the centre of our mission the culture of customer satisfaction and we propose ourselves as a supplier of high-quality products and at the same time as a partner to rely on for complete assistance from the definition of the project to its realization.