Multipurpose Room Seating
We apply and commit our technical Know-How to engineer multipurpose room seating capable of creating spaces while also rendering environments reconfigurable.
Discover all of Aresline's multipurpose room armchairs!
Learn more...
A multipurpose room is any room that has different uses and can serve various occasions. These environments are generally used as work areas, for teaching and training, or they are more complex structures like theaters of conference rooms that can reconfigure the space and turn into something different.
How to choose your Multipurpose Room Seating?
Armchairs installed upon telescopic (retractable) tribunes for multipurpose rooms.
The tribunes can present manual or motorized movements, just like the seating can be equipped with either a manual or automatic tilting mechanism allowing for a complete transformation of the room. Despite being of small size, the armchairs guarantee optimal comfort. They can be equipped with a small writing table (which can be folded away to the side) and are often chosen with padded and upholstered seats and backrests.
This type of armchair for multipurpose rooms is ideal for rooms with high ceilings, where you can maximize the vertical space in order to increase the number of seats.
To learn more, watch the video of the prestigious project for the new BGL BNPP headquarters in Luxembourg. Here, the large room was furnished with over 490 custom-made armchairs in three variants: Installed onto the floor (but removable in the first two rows), with folding backrests in the telescopic tribunes and fixed backrests in the back rows.
Discover all the details here and watch the video!
Armchairs that disappear into the floor for multipurpose rooms.
The action can take place either manually or automatically. Despite being of small size, the armchairs guarantee optimal comfort and can be equipped with a small writing table (which can be folded away in the side) and are usually padded and upholstered.
They are ideal for environments where it is possible to use the area under the ground-level walking surface. This system in fact hides the seating in this below surface area, freeing the room for other uses.
The renovation project of the new "Teatro di Monopoli" asked for a way to render the parterre completely reconfigurable. This project saw us as protagonists in the design process, with the supply and installation of almost 460 multipurpose-room seats, model V9.Syncron. We installed four versions of the same armchair within the room, based on its position and function.
Discover all the details here and watch the video!
Systems for removable armchairs allow to easily release the armchairs from their floor fixtures.
These systems require only a few simple steps to release and remove the armchairs (even those with a shared armrest) individually and in groups.
The majestic Expo Center of Ekaterinburg is furnished with the same type of armchair, the Chrono model, but the first rows are completely removable thanks to the seating's retractable wheels which facilitate its movement (Wheels system). In the "Teatro Civico di Schio," all seating in the parterre is removable and equipped with reclinable backrests, making for easier storage under the stage (Wheels and Back System).
Compliance with Safety and Ergonomic Regulations
Every single Aresline chair, armchair, and seat model is made to offer maximum posture and acoustic comfort, in full compliance with current regulations in terms of safety.
We follow the EN 12727/2017 standard (which specifies the requirements for safety, strength, and durability for all bar-seating fixed to the floor and/or walls, both in the form of benches or singular seats).
We comply with MEC (Minimum Environmental Criteria).
We follow the ISO354 standard (which specifies a method of measuring the sound absorption coefficient of materials and/or objects, such as furniture, in a reverberation room and the obtained values can be used for comparisons and calculations to control the noise and acoustic features of the environment).
Our products have fireproof certification for padded seating.
This allows us to be the only ones in Italy able to offer a 7-year warranty on all our products.
Premium Sustainable Materials
To create our multipurpose room seating we use the best materials available on the market: Wood of various kinds and qualities; steel of different thicknesses and shapes; self-extinguishing and CFC-free polyurethanes presenting densities per cubic meter that are most suitable for maximum comfort; class-1 fire retardant coatings with suitable grammage and high abrasion Martindale tests.
Made in Italy
All of our multipurpose room seating is manufactured in Italy. At Aresline, we believe in a local and controlled supply chain: All our seating models are designed and produced in Italy, in the Venice Manufacturing District.
Armchairs for Mobile Tribunes
Armchairs for InFloorSystem
Armchairs for System for Removable Chairs
You might be interested in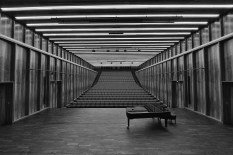 Theaters and Auditoriums
We are specialists in the design, production and installation of armchairs for both classic and modern theaters and auditoriums.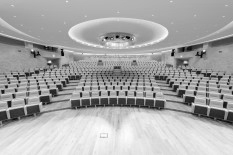 Congress Centers and Conference Rooms
Our armchairs and seats for Congress Centers and Conference Rooms are designed to provide maximum comfort, and to integrate the technologies and functions required for this type of environment.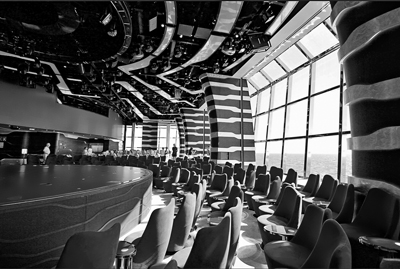 Custom Seating
We create custom-made armchairs for complex projects with attention, competence, and great professionalism.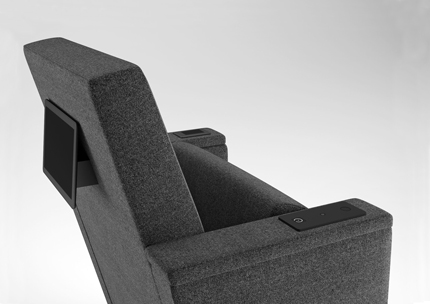 Technologies
A series of innovative systems to respond to the new demanding technologies of collective spaces
Custom Solutions
We carry out projects with attention, expertise, and great professionalism.
We place at the centre of our mission the culture of customer satisfaction and we propose ourselves as a supplier of high-quality products and at the same time as a partner to rely on for complete assistance from the definition of the project to its realization.